The Sixers Yearly Owning of the Pistons is a New Favorite Tradition
---
It was late in the 3rd quarter at the Wells Fargo Center and Andre Drummond had just stepped to the line for two free throws. He sunk them both, bringing his career free throw average up to 40%. Then, he back tracked down the court, silencing the crowd with his finger. The Pistons were down 30. He picked up a technical foul by the time he reached the paint on the defensive end.
The moronic move by Drummond was a microcosm of the Detroit Pistons performance 
tonight
, their permanent mediocrity as a franchise and quite frankly their sad excuse of a city they call home. A city that is only slightly less depressing than Cleveland, and really only claims to fame are Ford Motors and the last 10 minutes of 8 Mile, is the perfect location for a franchise like the Pistons. Misery loves company. The Pistons performance 
tonight
, which included being down by 40 at one point, and their existence as a whole would be described accurately as 'embarrassing'. A term their coach, Stan Van Gundy, threw around to describe Sam Hinkie's master Process: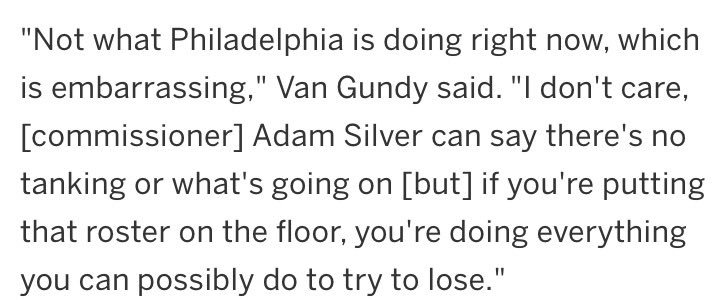 Well guess what you mother fucker, we were right and here we are. 
Tonight's
 game, which concluded a season series with the Pistons that the Sixers swept, featured many positives for Brett Brown's squad as they head to London. Ben Simmons came out with ferocious aggression, JJ Redick got hot which opened up the half court game, and Joel Embiid continued his trend of toying with Drummond. While there are plenty more positives to list, the biggest takeaway from this game is the Philadelphia 76ers continued dominance of the Detroit Pistons, a command over an inferior franchise that includes the Process years:
If you're reading this, you were right. People like Stan Van Gundy will always be wrong, stuck in mediocrity and complacent to fall on the wrong side of the 8 seed.
In Philadelphia, the complete blowout of the Pistons 
tonight
 continues a hot streak for the Sixers that has the ability to parallel their performances of last January. I'll tell ya what, there was a dark, dark stretch there in December where Carson Wentz tore his ACL and the Sixers lost 9 of 10 where I thought we were spiraling down a depressing path, probably into the Upside Down with Will Byers. But, here we are baby. Back and better than ever! 4 game win streak. Markelle Fultz is on his way back, or at least I think he is according to the Sixers medical staff's buzz words, and Nick Foles is winning us a playoff game. Things are coming up Philly.
For Detroit, congrats on being shitty at everything. Even Cleveland makes fun of you:
https://youtu.be/oZzgAjjuqZM